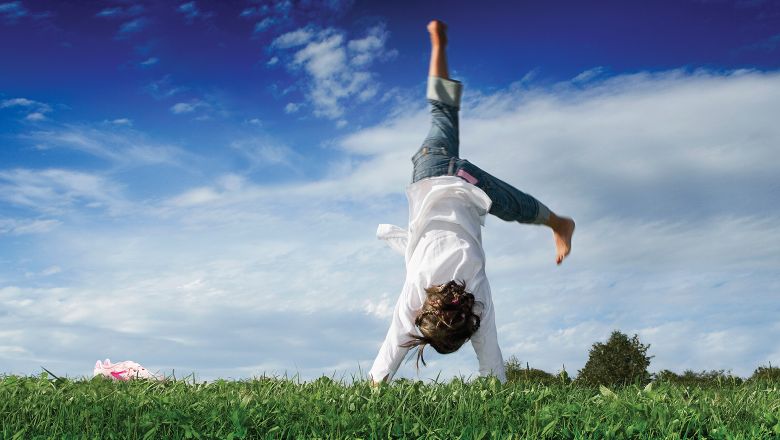 Our aim is to construct a portfolio that can withstand a wide range of market scenarios, such as growth, recession and inflation, will perform well and limit the effects of lower returns on the fund."
Scott Wolle, fund manager
What is a balanced fund?
A balanced fund is geared toward investors who are looking for a mixture of return and safety. Balanced funds could be considered the middle ground, providing investors with an opportunity to invest in a single fund that combines both asset classes: 'equity stock' and fixed 'income stock'. Performance returns may not be as spectacular as some equity funds but the risk should be considerably lower. Essentially the different holdings within a balanced fund should enable conservative growth while avoiding excessive risk.
Why the Invesco Balanced-Risk Allocation Fund?
Successful investors do not limit their criteria to the potential returns. By themselves, returns tell investors nothing about how the performance is achieved – risk is an equal, if not a more important factor. But how much risk is enough? Managing portfolio risk is one of the biggest challenges investors face. Too much risk could set you up for a crash, while too little might not earn the returns needed for the ultimate investment goals. The Invesco Balanced-Risk Allocation Fund offers investors an innovative solution to this dilemma.
Three asset classes – one fund
The Invesco Balanced-Risk Allocation Fund offers investors a strategic, globally diversified portfolio that invests in three different asset classes. For efficient portfolio management purposes the exposure to equities, fixed income and commodities is achieved by using derivatives.
Balance is the key to success
The fund follows a new investment concept which aims to balance the risk contribution of the three underlying asset classes equally. The goal of the investment team is to generate equity-like returns, but with a lower risk profile over an investment horizon of three to five years.1What should investors get out of this? A less nerve-racking investment for their portfolio.
Investment team
The investment team based in Atlanta includes experts who specialise in managing mixed-asset portfolios and risk-focussed strategies. The team's average experience in the investment industry is 20 years.
1Although every effort will be made, this goal is not guaranteed.
Quick links
Risk warnings
The value of investments and any income will fluctuate (this may partly be the result of exchange rate fluctuations) and investors may not get back the full amount invested. Whilst the overall risk of the fund intends to be consistent with that of a balanced portfolio of equity and debt securities, this may not be achieved. The fund will make significant use of financial derivatives for investment purposes in excess of the value of the portfolio that could lead to large fluctuations in the value of the fund. The fund uses derivatives to gain leverage which can potentially be up to three times the value of its net assets. The fund will gain exposure to commodities to diversify the risk of the fund.
Commodities are generally considered to be high risk investments and may result in large fluctuations in the value of the fund. Debt instruments are exposed to credit risk which is the ability of the borrower to repay the interest and capital on the redemption date. If you are unsure of any of these risks please contact your advisor.
Important information
The units/shares of the fund offered in this website are registered for public distribution with the Commission de Surveillance du Secteur Financier. No investment recommendation is being offered or provided by Invesco and if investors are unsure if this product is suitable for them, they should seek advice from a financial adviser. A decision to invest in shares of a fund must be based on the most up to date legal offering documents. These documents (fund & share class specific Key Investor Information Document, prospectus, annual & semi-annual reports) are available in hardcopy and free of charge at Invesco Asset Management S.A., Avenue Louise 235, B-1050 Brussels, Belgium, Tel : +32-2-641 01 70 - Fax : +32-2-64101 75 as well as on our website on the following link. Investors must be aware that their investment may be subject to the risk of adverse foreign exchange rate movements. Ongoing charges and any other fees, commissions, charges and expenses, as well as taxes, payable through the fund, are disclosed in the fund's KIID and prospectus. Other costs, including taxes, related to transactions in connection with the fund may arise directly for the client. Past performance is not a guide for future returns. The value of investments, and the income from them, can fluctuate (this may partly be the result of exchange rate fluctuations), and investors may not get back the full amount invested. Current tax levels and reliefs may change. Depending on individual circumstances, this may affect investment returns. For more information please contact your local distributor. All opinions expressed are based on current market conditions and are subject to change without notice.
© 2016 Morningstar. All rights reserved. The information contained herein: (1) is proprietary to Morningstar and/or its content providers; (2) may not be copied or distributed; and (3) is not warranted to be accurate, complete or timely. Neither Morningstar nor its content providers are responsible for any damages or losses arising from any use of this information.